Beautiful, functional, sustainable. Everything is in here!
It all started almost 30 years ago with environmentally friendly alternatives for organizing  offices, and now many of WERKHAUS organizers are real classics. Colourfully painted or printed fibreboard and rubber rings – that's all it takes to create innovative, colourful designer pieces with a cult status. Whether it's the VW T1 Bulli as a pencil box, the photo stools or the desk organisers: WERKHAUS products fit every style of living and have fans of all ages.
True classics never go out of fashion! Since 1992, our environmentally friendly office series for organising, archiving and presenting has convincingly combined impressive design with a high level of functionality. The organizers come in a variety of shapes and lively colours and highlight the office in an unmistakable way. The range goes from clip boards, stackable trays, magazine files and business card boxes to storage systems for CDs and LPs, mobile office pedestals and archive boxes.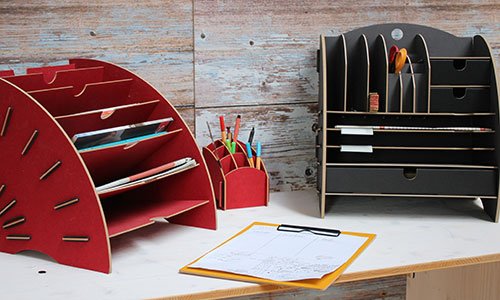 A particularly cool eye-catcher is our horsepower-strong pencil box fleet. From the Bulli, cult tractors and steam locomotives to a whole series of construction site vehicles – there's a model for everyone. The WERKHAUS connecting system and the advanced lamination technique make it possible to create mini-models that are true to detail and are super easy but lots of fun to assemble. On the desk, the pen holders have room for office utensils and pens and always attract attention.
Design products for every lifestyle
From the WERKBOX shelf wall, to functional media boxes for records or CDs, to small souvenirs: WERKHAUS accessories enrich every lifestyle with that special touch. With us, toilet paper rolls get a home of their own. We bring designer lights into the dark and build coffee tables on castors. We help to package gifts sustainably in our various boxes and hide tissue dispensers stylishly. Those who like octagonal tables will also find what they are looking for just as much as fans of well-organised wardrobes.