A good role model – for our employees and the outside world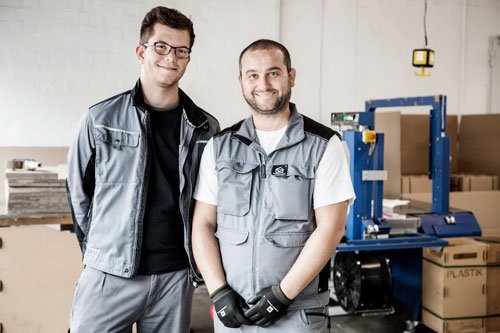 Like its products, WERKHAUS focuses on diversity and authenticity. From the very beginning, we have welcomed people of all backgrounds, with and without handicaps, young and old. Respect for each other, appreciation and flat hierarchies are important aspects of our company culture. WERKHAUS wants to be a company where employees feel good. To ensure this, we offer a wide range of services, for example in the areas health, work-life balance, or further training. Just like our connecting system, our company only succeeds when every employee contributes sustainably to stability and when we care for each other. With its sustainable lifestyle and environmentally friendly business methods, the company management, also wishes to show the employees options for action. WERKHAUS wants to be a model for others, show courage to take new paths and make the region attractive for workers.
Family friendliness

Family friendliness is extremely important to us. Werkhaus helps its employees to better balance their private and professional lives with individual arrangements and flexible working time models. Our family policy has been awarded the FaMi seal several times, an initiative of various organisations such as the chambers of commerce and crafts, business development agencies and the DGB (German Federation of Trade Unions) in north-east Lower Saxony.
Integration
From the very beginning, WERKHAUS has shown exceptional commitment to provide and create workplaces that are suitable for people with disabilities and to match and adapt work contents to the capabilities of the employees. We welcome employees of all nationalities. Already at an early stage in its history, WERKHAUS has offered refugees and migrants a perspective in the company and continues to be involved in this field.
Professional training

We support the professional training of our employees by, among other things, granting time off work, covering training costs and applying for public funding. However, in-house training, such as Business English courses, is also very important to us. With increasing production output and growing complexity of processes, it is becoming more and more important to have qualified employees who have a wide range of skills.

Health care

We want to ensure that our employees stay healthy and offer fitness co-operations, massages, and healthy organic food in our company cafeteria. In addition, WERKHAUS bought a fleet of e-bikes a few years ago and encourages employees to commute to work by bike.
Flat hierarchies

Flat hierarchies and direct decision-making are crucial for a creative company like WERKHAUS. We see ourselves as a learning organisation in a continuous improvement process. We encourage our employees to take personal responsibility and motivate them to participate in shaping the work processes.
Apprenticeship
As a company that trains around 16 to 20 apprentices in six professions every year, WERKHAUS successfully invests in the next generation and contributes to the initiative to prevent a shortage of well-trained employees in rural areas. It is especially important for us that our apprentices are familiar with the entire company, benefit from good mentoring and support each other.