Where nature becomes a hotel
Sustainable tourism on the Elbe and in the Eifel
With the opening of the destinature village in Hitzacker in autumn 2019, WERKHAUS has once again entered new territory. The holiday camp is our contribution to gentle tourism, we want to offer a natural alternative to resource-intensive mass tourism. And our concept is well received. In December 2021, the destinature village Hitzacker received two awards at the German Tourism Prize: 1st place and the ADAC audience award. In August 2022 we opened a second destinature village, the destinature village Südeifel. Our aim – our destination – is nature. Accompany us on this path and experience nature with all your senses – on the Elbe or in the rocky southern Eifel.
You can find the contacts to our villages on destinature.de.
Relaxed tourism in nature
With the destinature village, Holger and Eva Danneberg want to set new standards in eco-tourism. If the concept succeeds, it might be extended in a franchise system in the future. WERKHAUS does not want to be a full-time holiday village company but wants to pass on the idea and the concept. The pilot camp is located close to the Elbe Cycle Path next to the Archaeological Centre Hitzacker. It is primarily a meeting place for cyclists and a holiday camp for families and people who enjoy nature.
Looking back to the beginning
The destinature village in Hitzacker is located directly in the Lower Saxony Elbe Valley Biosphere Reserve. We feel obliged to keep the impact on nature as low as possible. The huts can be dismantled without leaving any remains. When we built the other buildings, laid paths, etc., we also took special care to treat the surrounding landscape as carefully as possible. Have a look at the picture gallery to see how the village was built and what it looks like now.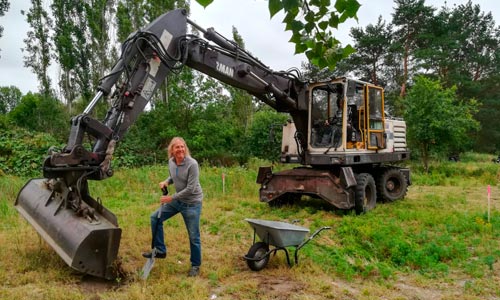 The typical connecting system
All destinature huts are manufactured using the characteristic WERKHAUS connecting system. What already worked well on a small scale also works on a large scale. The huts and houses of the destinature village are made of natural Douglas fir wood from sustainable production. They were manufactured at the WERKHAUS GmbH site in Bad Bodenteich. The wood comes from certified forestry. The huts were insulated with sheep's wool.