destinature village: We finished the first season successfully
Our sustainable nature hotel destinature village is an insider's tip for people who are stressed out by everyday life and for those who enjoy a holiday in nature. It can be reached easily from the major cities of Berlin and Hamburg, and is located in the middle of the creative, unspoiled Wendland region, just a few pedal steps away from the Elbe cycle path and on the edge of the scenic Lower Saxony Elbtalaue biosphere reserve. Everything – from the comfortable Tiny Houses and Beds to Go with tent roofs to the cosy duvets – is made from sustainable materials. The bistro at the village entrance offers delicious organic food – breakfast, snacks, salads, and drinks. Modern sanitary facilities complete the village. After an exciting day, visitors can relax in sauna huts and in hot tubs or enjoy the evening on the terrace or by the fireplace. The village gets its electricity and hot water from renewable energy sources, and Wi-Fi is provided.

Elbuferstraße 4, 29456 Hitzacker (Elbe), destinature.dorf@werkhaus.de, www.destinature.de
2020: A turbulent year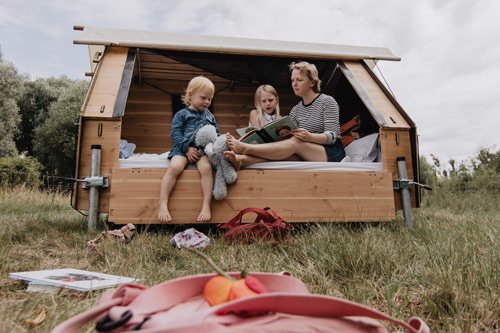 We officially opened the destinature village in autumn 2019, and now we can look back on  a successful and eventful first season. 2020 was a very turbulent year for us: even after the opening, we had plenty to do to make your holiday as comfortable as possible – many things had to be thought of, from the menu in the bistro to the smallest pieces of the huts. We then wanted to start the first full season in April 2020. Unfortunately, the Corona pandemic got in the way, and we had to wait until mid-May to open. Like all other hotels, Corona caught us unprepared, but our concept of generously distributed huts and beds-to-go in the middle of nature worked out well for us. Here, the required distance could be kept. But even with distance, the holiday in nature and the contact with the guests here felt and still feels almost normal.
Two film shoots and many interesting contacts
We met many interesting people in this first season and were glad to have many bookings in the summer.
Highlights were the TV shoots for NDR and the programme Quarks, talks with journalists and bloggers. We always move forward and stay open to new things. That is why we decided in autumn to be there for you in winter as well. We prepared some huts for winter and worked on the extension of the sauna area. Unfortunately, the second lockdown got in the way. We now want to open our doors again on April 1st, 2021 and hope that this will be possible. We look forward to our guests this year and to many inspiring conversations and wonderful (nature) moments.
Werkhaus also promotes e-mobility among its employees and provides them with 15 e-bikes. These can be charged for free at the company's own photovoltaic system.
WERKHAUS also uses electricity from Greenpeace Energy in the shops and in the destinature village. In addition, guests in the destinature village can charge their smartphones and other small devices using solar modules from Suncrafter.