destinature – furniture for a relaxed lifestyle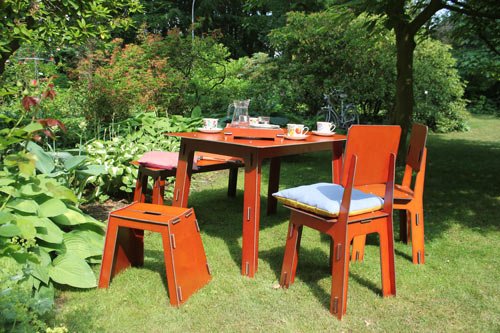 With our label destinature, we are on our way to nature. For there is hardly anything else than nature that can give us such an instant of freedom. Our products offer smart solutions for a relaxed life outdoors – from tables, benches, and stools for indoors and outdoors, planters and raised beds to nesting, feeding and hibernation places for birds and hedgehogs.
Our destinature label also includes the destinature village, a completely sustainably built and operated holiday camp.
Our destinature products can be used in several ways, they are long-lasting and, thanks to their natural materials, stand for liveliness and transformability, in the city as well as in the countryside. Destination Nature means to us that we work with materials that protect our environment and our resources, and the majority is certified (read about this in our materials guide).
Our main material is wood, using domestic wood species from sustainable, certified forestry in Europe.
We only process plywood and untreated boards made of spruce, Douglas fir and birch and leave them mainly natural. This gives our furniture and the huts in the destinature village an incredibly special touch. We also use wood fibre boards (MDF) made from waste and scrap wood in E0 and E1 quality, the categories with the lowest emissions. These are very lightweight, robust, and long-lasting.
We also pay attention to sustainability and transparent supply chains when using other materials. Our cushion collection, for example, is made entirely from sustainably produced wool, both for the cover and the filling.
Sustainability is a permanent process, and we are always working on improving our products and manufacturing processes accordingly.